- Upcoming Events -

---

Jan 10, 2003
We're back!!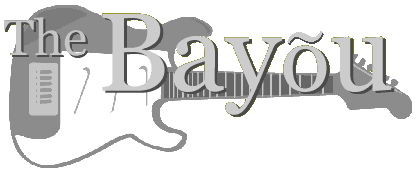 Friday Night, Jan 10, 2003

9pm-1pm

1071 Bank St. (613) 738-1709

$5 Cover
Click Here for a blank Poster.

Site News, Feb 17, 2002: Our last gig at the Bayou was on Dec 14th, where a slight scheduling bobble resulted in us sharing the evening with a great local group called "Chalkboard Fingernails", part of an alumnus of which one former member was celebrating a birthday. We were joined by Al Cripps on Guitar, sitting in for Bruce Caulfield. We also had Ian Card on piano, and Brian Downey on Drums. Tim Roberts was in the house and sat in for the night as well. Bruce Baird's Board tapes are now legendary around town, and that evening's performance was captured in all it's glory and had a great big-city kind of sound. We felt like we had an all-star band.

Site News: Wednesday, June 13th, 2001:

We're Baaack. To the Bayou blues bar at the bottom of Bank, where you can buy a beer from Buu the bartender in the back and get bombed, but don't bug Bruce behind the board...he's busy. I digress...anyway, we're back on Friday, July 6th, 2001 and it should be fun...after Blue Rodeo at the Bluesfest, why not come on down for an apres jeux? (don't ask, I am only guessing at the conjugation en francais) I'll update with details in a couple of days. I beleive we will have some friends from out of town visiting as well, so it promises to be a hoot.

Site News: Tuesday, May 15th, 2001:

No gigs lined up at the moment. Will know of a couple of dates soon. Just added a bio page for Penelope, details, details. Started work on making samples to upload to website...the first test sample was Don't Explain which was uploaded in Febuary. The problem was that for some reason this server wouldn't allow for anonymous FTP downloads.

Lots of fun on the 11th at the Bayou...Steve Patterson's 20th birthday party...he was joined by his dad on guitar at one point...a fine player himself. Bruce Blair produced a fine mix and an excellent recording...we will definitely be making some clickable samples out of that. The band is really sounding excellent and Bruce Caulfield and Steve Patterson are creating some great moments between them. The jam at MacCann's in Arnprior went well also, we look foreward to returning.

Thursday, May 10th, 2001:

The house was rockin' for the Bayou Gigs last few months. Most of you stayed around, too. We'd like to thank everyone who came down. The place was full and Bruce worked his usual magic behind the board.... Hope to see you all again, we will be back to the Bayou May 11.

Please note that the Bayou Gig this Friday also marks our Alto Sax player's 20th Birthday. Steve Patterson hails from waaay up Northern Ontario, so it's extra special 'cause his Dad will be in town and will likely sit in with the band for a couple of tunes too.

The Rideau Curling Club was the site for our own event, the "Log Out" party. We shared the bill with Blue Lion, featuring Bob Blithe of the MRQ, and "Linda Hormone" did a feature, as well as minded the door for the event, a daunting task which we thank her for. Doug Cocharane couldn't make it and we couldn't locate a keyboardist so Brian Downey gladly filled the bill on the skins and Steve Patterson joined us on Alto Sax. It seems Steve will be joining us for a while as well. There were about 200 people there and everyone had fun. Now if I can get online video working we might be able to have some video clips of it on the site...thanks to Niel Taylor, who videotaped the show with his trusty handy-cam. We also extend thanks to Axial Lighting for the lights and wardrobe etc., the whole thing looked great as a result.

Stay tuned for more updates coming soon. (Really!)


---
Would you like to join our mailing list? Just send e-mail to
alcannon@aei.ca and indicate you would like to be on our e-mail list in the message.
---
upcoming events |
pictures
|
songlist
|
links
BACK to the main page